09 Kashmiri Food Dishes That You Must Try
The crown of the nation is not just soothing to the eyes but also does wonders for your taste. Mouthwatering delicacies of Kashmiri food will leave your stomach full but your tongue still craving for more. What's more is that it's not just one cuisine from the north that will do this. Kashmir and Leh regions have different cuisines, each to their own and once you try them out you'll realize why this variety could not have fit one plate at once. Here is a list of some of the most popular Kashmiri food dishes which everyone must try at least once in their lifetime.
Here is a list of 09 popular dishes of Kashmir:
1.
Rogan
Josh
A must try dish for all the Lamb or meat lovers, Rogan Josh, a nice-smelling lamb dish is one of the signature recipes of Kashmiri food. It was introduced in India with the coming of the Mughals. Strong and healthy with flavor's of browned onions, different spices and yoghurt, it is a very healthy low-fat dish. Try it with rice or naan and you will wish for more.
2.Modhur Pulav
Modhur Pulav is the name given to sweetened Kashmiri rice prepared using cinnamon, a little saffron, milk, ghee,
sugar, cashew nuts, almonds, green cardamom among several other ingredients. This dish is sweet, flavoured and healthy with saffron as the main spice which gives it beautiful colour and taste. And this saffron is also grown and in Kashmir itself. The distinctive taste of this pulav is unlike something you?ve ever tasted before. Just taste once and you will be left craving for more.
3. Matschgand
Let the aroma of Kashmiri cuisine seduce your taste buds. Again a dish for the meat eaters, go ahead and try Matschgand if you wish to see the gluttony side of your personality! Matschgand is actually a dish of minced meatballs which is cooked in spicy red gravy. And it indeed is a dish which can totally seduce your taste buds!
4. Yakhni or Yoghurt Lamb Curry
If you wish to taste an authentic Kashmiri delicacy, then you must taste Yakhni which is lamb cooked in yoghurt based gravy. Yakhni is flavoured with mawal flowers, black and green cardamoms, onion paste and dry mint leaves with aromatic fennel seeds. Have it with well-cooked rice to enjoy the true flavour of this mouthwatering Kashmiri dish.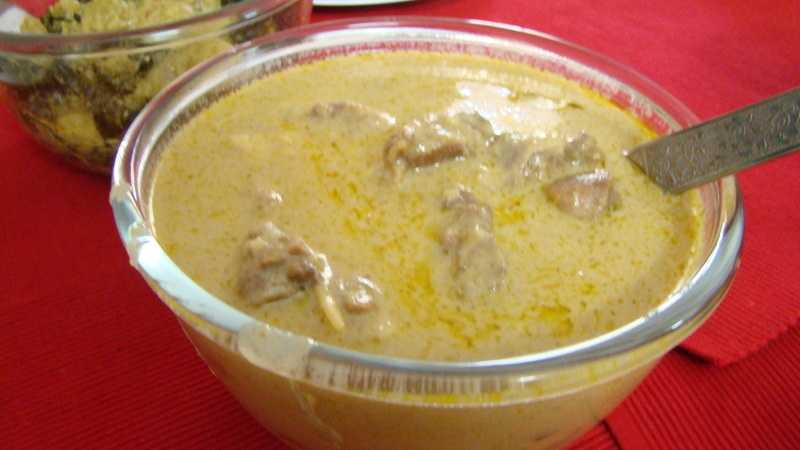 5. Dum Olav
While most of the Kashmiri cuisine dishes are non-vegetarian, there is something very special prepared with potatoes for the pure veggies. Dum Olav or Dum Aaloo, one of the most famous dishes of Kashmiri food. Dum Aaloo is cooked with yoghurt, ginger powder, fennel and other hot spices to give it a unique flavour and aroma. You can have it with chapatis or naan to get the most out of this all time favourite and popular Kashmiri cuisine dish.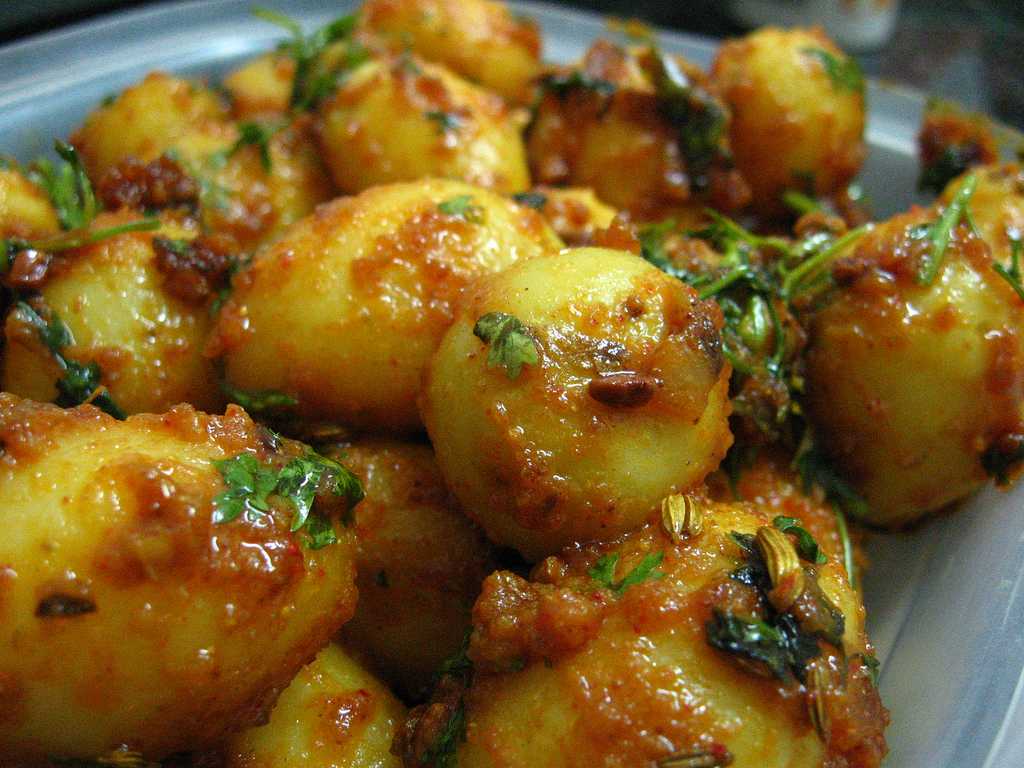 6. Kashmiri Muji Gaad
Served on festivals and occasions, Kashmir gaad is a dish made up of fish prepared generally with radish or nadur. This dish is an amalgamation of vegetarian and non-vegetarian items as the taste of fish and lotus stem blend together to give it a unique taste while hot spices and herbs add to it's unique yet amazing flavour and aroma. This dish is usually served in/during festivals like ?Gaada Bata? in the month of December.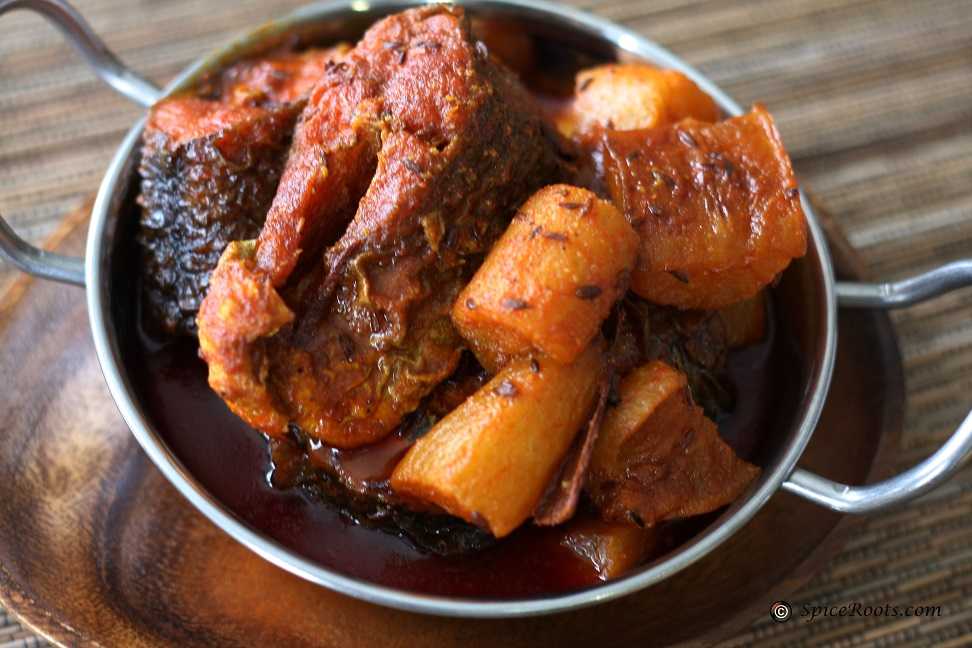 7. Aab Gosht
If you are a mutton lover then you will love Kashmiri food. Mutton is one of the major items used in the everyday food of the Kashmiri people and you can find almost 30 varieties of Mutton dishes in Kashmiri food. Among the many mutton dishes one of the most popular is Aab gosht. It can be made in two ways either Kashmiri or Iranian. The Kashmiri dish is made using milk and several spices including cardamom and black pepper. Yummy!
8. Goshtaba
A traditional delicacy of Kashmir, Goshatba is minced mutton cooked in flavorful yogurt gravy and spices. This dish is prepared on royal occasions and it indeed has a royal taste and flavour which can tease you appetite to urge for more. Hence it is popularly known as a ?dish for the Kings?. Don't forget to try these delicious balls on your trip to the heavenly Kashmir!
9. Lyodur Tschaman
Veggies rejoice! Who said Kashmiri food isn't meant for vegetarians? Here comes another delicacy from the picturesque hills and mountains of Kashmir. And it's meant especially for the ones who are purely vegetarian. A top favourite among Kashmiri vegetarians, Lyodur Tschaman is cottage cheese cooked in creamy turmeric based gravy. One of the very few popular vegetarian dishes which are a part of Kashmiri cuisine, Lyodur Tshaman is cooked almost every day in the Kashmiri households.